What is Domestic Violence?
Domestic violence is a pattern of abusive behavior exhibited by one person towards another between whom there is a relationship. Domestic violence is characterized by the misuse of power and control. It includes physical, emotional, psychological, verbal, sexual, and economic abuse. Legally, domestic violence includes a broad spectrum of relationships including violence between siblings, children and parents, roommates, caretakers, etc. Domestic violence is not a momentary loss of temper, but an ongoing technique used by the batterer to enforce control through the use of fear. The batterer makes a conscious decision. Use the Wheel of Power ad Control to help determine whether you may be a victim of domestic violence: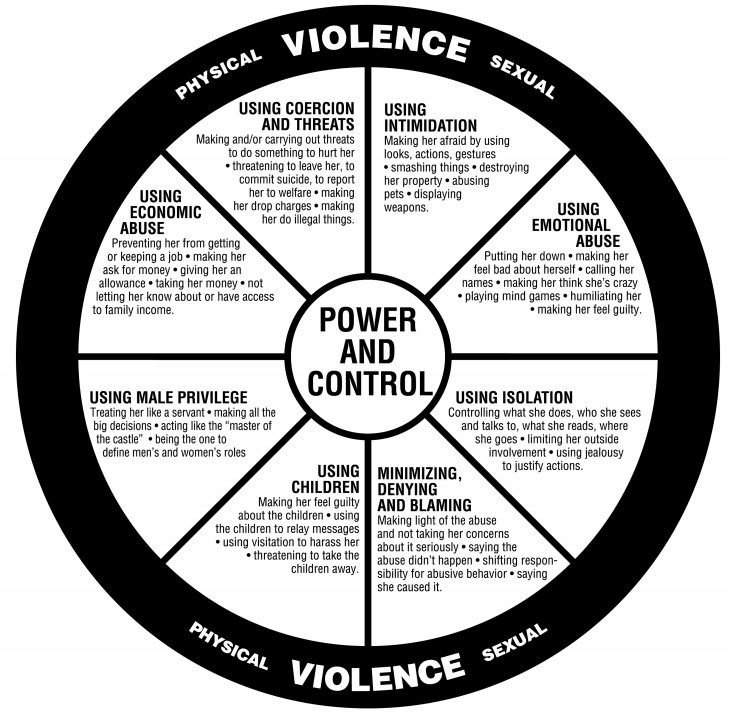 If you are afraid of your partner or spouse, you are not alone. Get help now. Free and confidential help is available 24-hours a day, 7 days a week through the DC Victim Hotline at 1-844-443-5732. Remember, the abuse is NOT your fault, and leaving is never easy. We serve all victims of domestic violence on our 24-hour hotline, regardless of sexual orientation, language barriers, gender, or immigration status.
Domestic Violence in the District of Columbia
2017 Statistical Snapshot
One in four women and one in seven men will experience domestic violence.
In One Day in 2017…
616 survivors were served by local domestic violence programs, with 418 receiving emergency shelter or transitional housing and 198 receiving non-residential assistance and services, including counseling, legal advocacy, and children's support groups.
Service providers were unable to meet 77 requests; 43% of unmet requests were requests for housing.
Lack of Safe Housing Options for Domestic Violence Survivors
Nearly one‐third of unaccompanied homeless women in D.C. indicate that violence is the cause of their current homelessness or housing instability, and 63% of unaccompanied homeless women with past experiences of violence and trauma report at least one act of violence against them during their current period of homelessness or housing instability.
26% of homeless adults in families in D.C. reported a history of domestic violence.
28% of survivors in D.C. who called the National Domestic Violence Hotline between January and June 2017 cited shelter as their principal need, the top need mentioned.
The Need for Culturally Specific Services
Black/African American women make up 75% of unaccompanied homeless women in D.C. although they are only 52% of adult women.
Community-focused intervention and prevention efforts directly contribute to survivors' safety, empowerment, and overall well-being.
In FY 2017 Culturally specific domestic violence service providers served 1,423 survivors.
Court Data
5,973 petitions for new Civil Protection Orders were filed in D.C. Superior Court in 2017. This is a 7% increase from 2016.

1,995 Civil Protection Orders were granted.
Law Enforcement Data
The Metropolitan Police Department received 35,909 domestic violence-related calls for service in 2017.

While this is a 2% decrease from 2016, it is a 9% increase over 2013.
Download Full 2017 DCCADV Statistical Snapshot here