Who We Are
My Sister's Place (MSP) shelters, supports and empowers survivors of domestic violence and their children, while providing leadership and education to build a supportive community.
For over 40 years, MSP has been an innovator in changing lives by providing DC's first hotline and one of the first domestic violence shelters. MSP also offered the first Batterer Intervention group. As one of DC's oldest domestic violence shelters, we have served as a cornerstone of the District's response to this pressing public health issue since 1979, and our impact on DC's community continues to grow.
MSP is unique in offering a full continuum of care from emergency shelter through transitional-to-permanent housing. Our experienced team of case managers and residential counselors provides clinical counseling, case management, and comprehensive services to empower survivors to recover and thrive. MSP also provides training, case consultation, and advocacy to engage communities to prevent violence and abuse. Our goal is to end the cycle of domestic violence, and empower everyone to build healthy lives and relationships.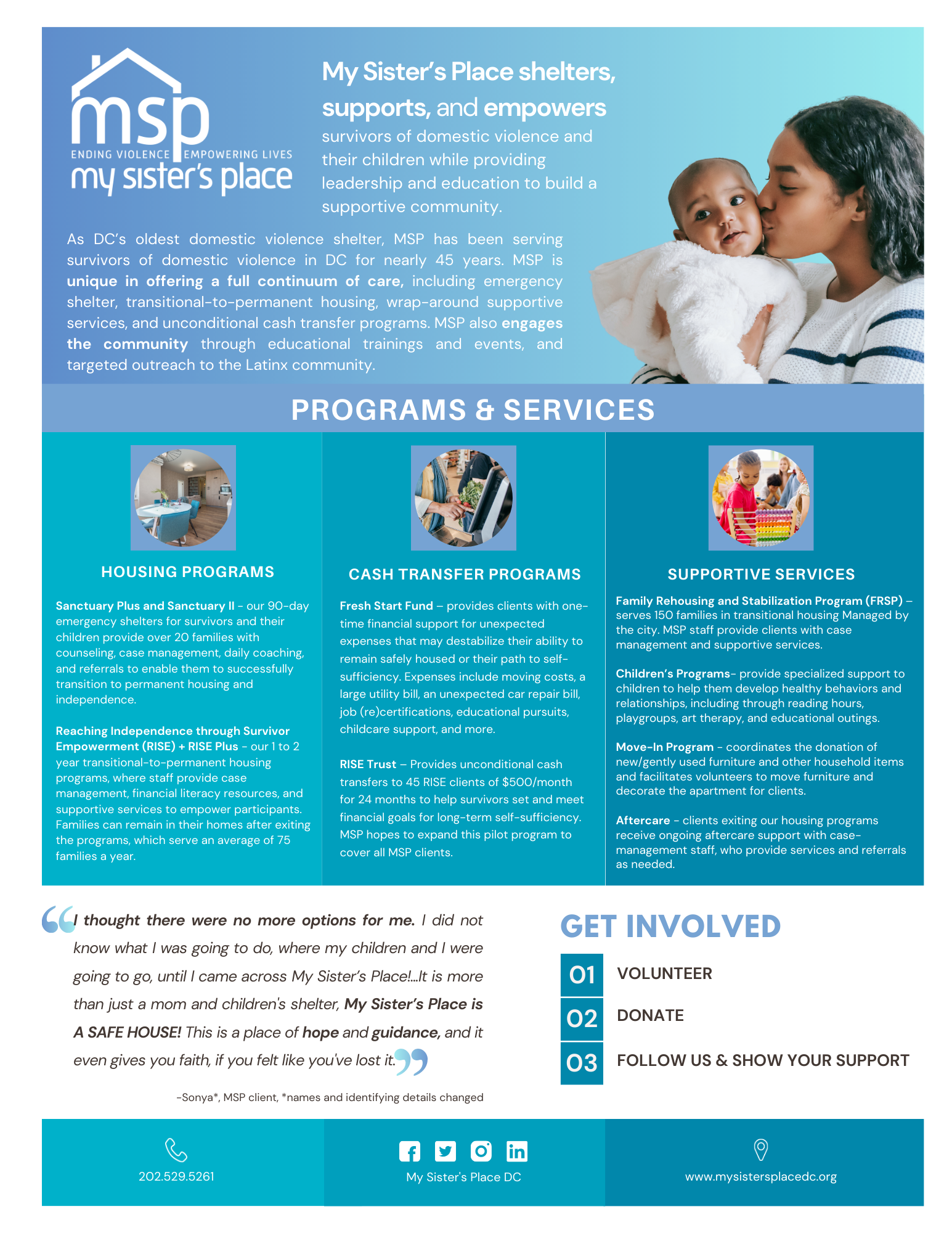 Download our one-pager: MSP One-Pager
Descarga nuestro one-pager: MSP One-Pager en español
Interested in our Programs & Services? Learn more
My Sister's Place Value Statements
Demonstrate Professionalism, Integrity, and Excellence
We strive to maintain the highest expectations of ourselves and are accountable to each other – colleagues, survivors, community, and ourselves. Our ambitions are guided by our community, best practices, evaluation and feedback and are performed with high standards and integrity.
Support Wellness and Self-care
We believe in order to live fully and holistically, we must prioritize time for healing, wellness, and growth. Thriving through adversity, challenges, and change requires tools and strategies for coping and resiliency. We encourage self-awareness, self-advocacy, and life balance through dedication to self-care.
Provide Person-centered and Trauma-informed services
We seek to empower the survivors we serve to honor their experiences, prioritize their needs, and restore self-agency. We recognize that each person has unique experiences and requires an individualized approach that is informed by survivor strength, experience, and choice. It is accessible, comprehensive, and survivor-led.
Foster an Environment of Trust, Transparency and Respect
We value open communication, collaboration, and collegiality that nurtures a trustful and respectful environment. We celebrate our differences and strengths utilizing them to be a creative, supportive and solution-minded team and community.
Deliver Services Intentionally and Passionately
We define our vision and goals to meet the dynamic needs of the community we serve. It requires we cultivate passion for achieving our mission and act with purpose to support the wishes of survivors. We advocate for what is just and are committed to providing quality service.
Our History
2023 – In January 2023, we launched the first emergency cash transfer program for survivors of domestic violence. The program supports 45 families in our RISE Transitional Housing program with an unrestricted monthly payment for two years.
2022 – MSP opens second emergency shelter for survivors of domestic violence, named Sanctuary II.
2020 – MSP expands our transitional housing program with RISE Plus, a program that provides rental support and case management to clients for 2 years serving an additional 30 clients a year.
2020 – MSP launches the Family Rehousing and Stabilization Program (FRSP). FRSP supports 45 families in transitional housing managed by the city and provides them with MSP trauma-informed support, case management, and care.
2020 – MSP creates the Fresh Start Fund which provides vital financial support to our clients as they pursue transitional-to-permanent housing, educational or employment opportunities, and experience unexpected expenses which can be destabilizing.
2019 – MSP initiates the Move-In Program which collects new or gently used furniture and household appliances and helps survivors of domestic violence furnish and decorate their homes when they move out of the shelter and into independent apartments.
2019 – MSP opens the Domestic Violence Legal Clinic in NW D.C. to increase services to D.C.'s immigrant communities.
2018 – After 42 years of operating D.C.'s first domestic violence hotline, MSP hands over the hotline operation to the DC Victim Hotline to streamline services for domestic violence callers.
2018 – MSP becomes the first domestic violence organization in D.C. to translate and maintain a fully integrated Spanish website as part of Latino Outreach Program.
2016 – MSP partners with the Child and Family Services Agency of D.C. to create the first Batterer Intervention Program for fathers whose families have been identified as at risk by CFSA (Child and Family Services Agency).
2012 – MSP launches RISE (Reaching Independence through Survivor Empowerment), our innovative transitional-to-permanent housing program that currently serves 30 families each year.
2010 – Due to increased need, MSP breaks ground on Sanctuary Plus, an expanded and renovated 45-bed emergency shelter. The shelter officially opened in 2012.
2006 – In collaboration with Crime Victim Compensation Program, MSP launches the Emergency Services Center to provide therapeutic counseling and case management to hundreds of women and children referred through the court system.
2001 – MSP launches the Domestic Violence Intervention Project in five public housing communities.
2000 – MSP launches "Beauty Salon Project" distributing empty lipstick cases and nail files with the hot line number at community resource clinics.
1999 – MSP pilots the Latino Outreach Program to provide resources and information to Spanish-speaking communities.
1998 – MSP opens a nonresidential counseling program that provides free support to women and children survivors.
1991 – My Sister's Place collaborates with Whitman-Walker Clinic to start a support group for lesbian survivors of domestic violence, becoming the first LGBTQ+ friendly shelter in D.C.
1989 – My Sister's Place launches the first transitional housing program for domestic violence survivors.
1983 – My Sister's Place becomes the official name of the organization operating independently from WLDF.
1981 – WLDF gets incorporated as a nonprofit.
1981 – WLDF opens one of the first domestic violence shelters in D.C. with 15 beds, and subsequently moves to a 22-bed shelter in 1981.
1979 – WLDF opens one of the first domestic violence shelters in D.C. with 15 beds, and subsequently moves to a 22-bed shelter in 1981.
1976 – The Women's Legal Defense Fund (WLDF) launches its Taskforce on Abused Women together with the Junior League of Washington, WLDF starts the first domestic violence hotline for survivors of domestic violence.